It´s official!  You´ve signed up for your club´s garden tour and in just a few months you are off to explore gardens with like minded friends.  You are looking forward to these shared moments of delight and inspiration, all the shared memories and stories you will bring home.  And perhaps to initiate those changes in your own garden with the insight you will have gained from visiting exceptional gardens. 
How to prepare for this trip of a lifetime?  Consider these 10 practical tips.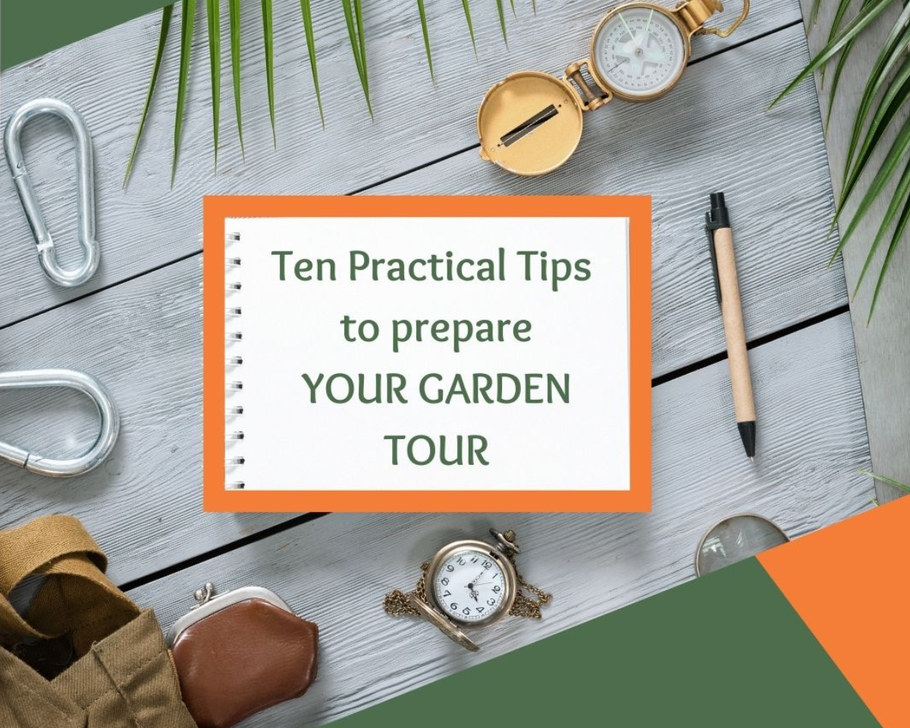 ---
1.      Flights
Book your flights ahead of time.  It seems that since the pandemic airlines have reduced service and there are fewer flights available.  At the same time, it seems everyone is wanting to travel to tick that bucket list destination (which annoyingly coincides with yours) off their list.  That means that demand is high and consequently that prices for flights are likely to rise the longer you wait.  If you´re not sure and don´t want to full commit, most airlines will let you for a small additional fee purchase a ticket that you can later change or cancel for a refund.
Book a direct flight.  Though connecting flights might be cheaper, you run the risk of delays which could make you miss your connection.  This could not only mean that you would miss the group transfer from the airport and have to arrange your own transportation to the hotel, but also that your baggage might get lost.  Unless you are flying in a few days early and have some leeway, I recommend booking a direct flight
2.     What to pack?
As the best time to visit gardens is typically the spring or the fall, you´ll be traveling at a time of year when the daily variations in temperature are typically widest.  In other words you´ll need to be prepared for cool morning and evenings and high midday temperatures.  So bringing along layers you can peel on an off is my recommendation.  I call that the onion principle. 
Here are a few items I wouldn´t want to be without:
Light weight Shawl: doubles up as a travel blanket, useful on the plane but also sometimes on the bus depending on the weather.  And in the evening to dress up an outfit and keep you warm in case the temperature drops.
Scarf:  I think a couple of lightweight colourful scarves along which can keep me warm if it´s chilly, for example in the morning or in the evening, and can also double up as a useful accessory to change the look of an outfit
Hat:  the best hat is the one that doubles up as a sun hat and rain hat while still being lightweight and crushable.  I`m still looking for the ideal brand…. 
Rain coat:  lightweight protection in case of a rainshower is a must, especially when visiting gardens where rain is always welcome for the plants, even if inconvenient for the visitor.
3.     What about Shoes?
Visiting gardens inevitably comes with walking and hence being on your feet most of the day.  That is why I recommend sensible comfortable  non-slip waterproof shoes.  Sensible because in gardens we are always walking on uneven ground (cobble stones, dirt paths) and stilettos or heals are typically not suitable.  Non-slip for the same reasons.  Waterproof because sometimes we are walking on wet grass and, if you`re like me, you don´t enjoy having wet feet.  This doesn´t mean you need to take hiking boots along.  Sneakers are fine as long a they provide suitable support.  Does that mean you´ll never get to wear nice shoes?  Of course not!  Come down to Cocktail hour in your stilettos, why not?
4.     Is Carry-on doable?
I am always in awe of travelers who manage to take only carry-on.  This requires discipline and organization but is absolutely possible, especially if you are only travelling for a week.  The benefits of carry-on are obvious:  you won´t have to wait for your luggage at baggage claim and there is much less risk of your baggage not making it to your destination with you.  Does that mean you have to look dowdy and wear the same thing every day?  Absolutely not.  How? Make sure every item can be mixed and matched, in other words that every item can be worn more than once in different settings.  For example, black slacks can be combined with a blouse and scarf for dinner and worn with a more casual top during the day.  The look is completely different with sensible shoes than with sandals or more elegant shoes as one would wear in the evening.  How to choose?  Put everything you think you might want to take out on your bed or somewhere you can see it.  Sort by type ie tops, bottoms, sweaters, scarves, shoes, etc Pick up each item and think of how it can be mixed or matched,  Discard any item you can only use once.    I confess that I don´t always manage to have just carry-on, especially if I am travelling for longer than a week.  So no worries:  checked baggage is fine too.   
5.     How to pack?
Consider using cubes or other inside-suitcase system to help you pack compactly and save time every morning.  This is a good way to keep your clothes wrinkle-free, especially if you roll them.
6.     Do I need to bring along cash?
I recommend you always take along at least a bit of cash in local currency. 
It´s true that since the pandemic most places in Europe have stepped up their card payment options.  That means that credit cards and debit cards are accepted in most places.  Keep in mind that Visa and Mastercard are more likely to be accepted than American Express.  Also that if you pay smaller amounts by debit card your bank might charge fees which make the net cost higher than expected. 
However in my experience there can be technical glitches which will make electronic payments, especially of smaller amounts, impossible just when you would need them   European shopkeepers will not accept dollars in cash. So  it is a good idea to always have a bit of local currency on you for that gelato or that coffee or that unique handbag you found at the market. 
How to get local currency?  ATM`s are readily available, especially if you are going to be staying in town.  If you will be in the country, you might need to plan ahead by either getting cash upon arrival at the airport or procuring currency from your bank at home before your leave.  Plan ahead for this as some banks require advance ordering
7.     Phone
Remember to call your provider and buy an international plan for the duration of your stay.  This will cost you a couple of dollars a day, much cheaper than paying as you go.
Bring a plug adapter to charge your phone (though most hotels can lend you one and some have USB outlets you can use without the need of an electrical plug).
A power bank or a battery pack is also a good idea as all those photos you are likely to take will drain your battery more quickly than you might expect and it is very frustrating not to be able to take a photo because your phone has just died.
8.     Documents
It´s a good idea to bring along a copy of your passport.  In case you lose the original, the copy will be very useful and expedite the process of securing a replacement.  Also consider leaving a copy at home with someone you can reach anytime during the duration of your trip.  Is a digital copy enough?  It´s better than no copy at all but for those of us whose phones seem to be constantly out of battery just when we need them most, a paper copy is better.
Also consider taking a paper copy of your credit card for the same reason.
9.     Jet Lag
Experienced travelers say that one infallible way of making sure you are ready to hit the ground running upon arrival is to start getting used to the time change a couple days´ahead of your departure.  For example the day before you travel to Europe, get up in the morning at 4:00 and don´t have breakfast till 6:00 or 7:00 which would be lunchtime in say Paris.  Have your next meal, at about 2:00PM which would be dinner time in Paris and go to bed as early as possible.  This will mean that your body will be well on its way to adjusting to new meal times and rhythms by the time you land on the other side of the Atlantic. 
During the flight, make sure you keep hydrated.  In keeping with the strategy of taking meals on the time schedule of your destination  don´t eat, or drink alcohol, but drink as much water as possible, and try and go to sleep immediately.
10.   Insurance
The minimum I recommend is purchasing insurance which will cover any medical expenses you might incur if you need to seek emergency treatment during your stay abroad.  You can also consider Evacuation Insurance which will cover any repatriation costs in case of severe illness.  Finally cancellation insurance, in particular, cancellation for any reason insurance, is a good bet in case something happens before you leave and you are unable or decide you cannot travel.  Insurance typically needs to be purchased within a maximum of two weeks of booking your trip. 
Check out  www.squaremouth.com for plans and rates.
---
I hope you find theses practical tips useful in preparing for your trip. If you have questions or if I`ve forgotten something, please get in touch.   I look forward to sharing a garden adventure with you soon.
---
---
Sharing is Caring
---
If you like this article or if you find it could benefit a friend, please share it using one of the buttons below.
Many thanks!