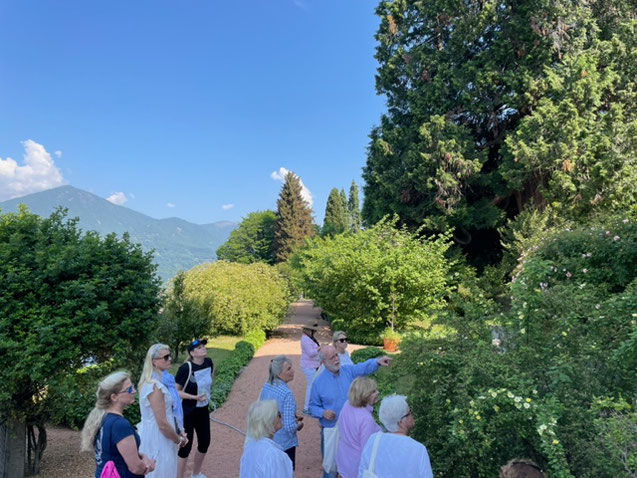 ---
On my recent trip to the US I had the joy of attending a garden club meeting in Connecticut.  It was a treat to reconnect with some of "my" travelers and talk about garden travel with many of their friends.  The Garden Club president made clear something i hadn´t thought about before.
She pointed out that the Garden Club of America network is a precious resource when arranging garden trips within the United States.  "I would just call my counterpart in say Los Angeles and she would make sure we got into the best private gardens in her area."
 From this perspective, planning a trip abroad for your garden club can seem daunting.  Where to go and how to find the "right" destination?   
Here is my advice on making the right choice.
Consider your needs
Are your members experienced travelers? 
If not they might feel more comfortable in a country where they speak the language.
Is your priority horticulture or design inspiration? 
If your travelers are serious gardeners intent on learning from the best,  then choose a country where excellent private gardens are plentiful. 
Or is your priority  sharing the joy of new discoveries with like-minded friends and creating memories? 
In that case, you might choose your destination for its holistic experience..  Your itinerary will combine discovering remarkable garden with experiencing local sights and culture.
Keeping those needs in mind, take a look at the following destinations.
---
England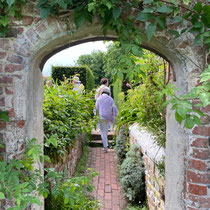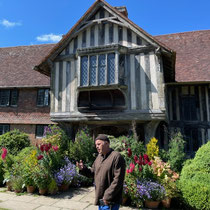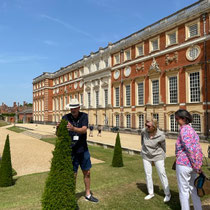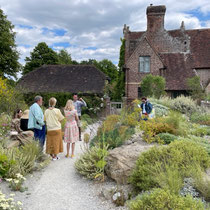 England is the candy store of serious gardeners.  No other nation embraces gardening as part of popular culture the way our friends in the UK do.  There it is commonplace to spend time in the garden, to grow things, and to make one´s yard a little piece of paradise.  Such initiatives as the National Garden Scheme make visiting gardens a favorite pastime.  Many gardens are open to visitors, especially as the fees collected are donated to NGS charities.  The practice of showing one´s garden and exchanging with like-minded passionate gardeners is practically a national hobby.  Add to that the National Trust which manages many historic houses and their gardens and England is truly a paradise destination for gardeners. Another plus, if you come from the US or another English speaking country, is the lack of language barrier.  Planning and getting around is relatively straightforward.
My advice:  pick the area you´d like to visit, choose a nice hotel and plan your visits from there.  Chances are you´ll find more than enough sites within an hour´s drive to fill your itinerary.
---
NORMANDY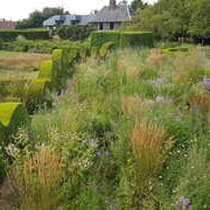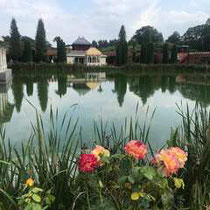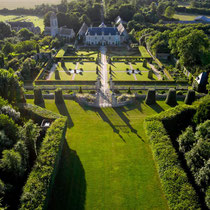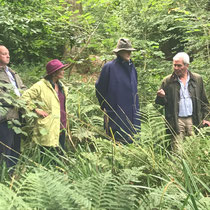 If you´ve already been to England and you´re interested in horticulture, good design, a good variety of small and large, historic and contemporary, then you might consider Normandy.  A short drive from Paris (at least the western part) you can spend a delightful week not only experiencing many different gardens, most of them private, but also a variety of landscapes, and not least delicious food – after all, this is the land of Camembert and Calvados.
My advice:  consider spending at least half a day if not a full day exploring the DDay sights.  Even if your primary purpose is to see gardens, you´ll be struck by the density of DDay memorials – it seems there´s one at every turn.  You`ll realize that learning about DDay  is integral to experiencing Normandy.
---
ITALY – THE LAKE REGION
The Lake Region of Italy is the place to go if what you`re looking for is a combination of historic gardens, dolce vita and horticultural curiosities.  Travelers have come to this area since Roman times and here the art of hospitality is deeply honed and ingrained in the culture.  The climate is mild, the light is stunning, the landscape dramatic and the people friendly.  If you come in the early spring, or in the late fall, you can experience exceptional camellia collections.    
My advice:  spend as much time as possible on the water.  This is how this region is best experienced.  While you can drive everywhere and all the gardens are reachable by road, the magic is in experiencing them from the water.
---
ITALY – SECRET GARDENS OF VENICE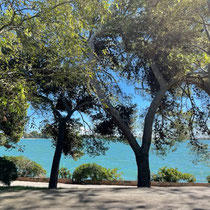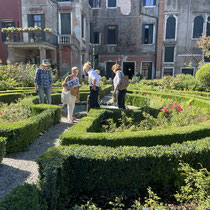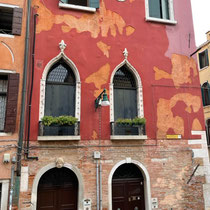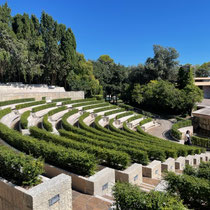 Most people don´t really think of gardens when they think of Venice. 
Water, architecture, art, canals, palazzi all make Venice a rather mineral city.  And yet, behind all those grandiose facades there are up to 500 gardens.  Discovering the secret gardens of Venice is more about exploring the city through a different lens than about seeking out horticultural wonders or design splendor.  The fact that they are there at what makes the gardens of Venice remarkable. 
Consider the odds: recurring floods  of brackish water  wash  away the soil time and again,;  building anything in Venice is a logisitical challenge as all materials must be brought by boat, in such units as can easily fit into a wheelbarrow at most – there is no room for big machinery here , no backhoes, no dumptrucks.  The soil in which to make a garden has to be brought in by boat and carried in by hand.  So must the plants.  And consider the maintenance:  the clippings from shrubs and hedges must be carted away by boat as well.  There is little room for compost piles.
My advice:  This is a trip for a small group of intrepid travelers who wish to discover another side of Venice, off the beaten track and away from the crowds.  You won´t see English gardens in Venice, but be amazed over and over at the ingenuity of the Venetians to cultivate green spaces against all odds.
---
READY TO PLAN A TRIP?
I hope you find these tips helpful in planning a garden tour to Europe for your garden club or group of like-minded friends. 
Do leave me a comment below or get in touch if you have questions!
 Let´s start a conversation!  
---
If you like this article or found it useful, please share it with a friend using the buttons below.  Many thanks!