When it's snowing outside, I like to escape and dream of sun, warmth, lush greenery and fragrant flowers.
How about a tour of
THE BEST GARDENS OF CORNWALL ?
WHY CORNWALL? FOUR REASONS TO TRAVEL TO CORNWALL
·         Cornwall has the mildest climate in the UK, because of its situation on the ocean and the influence of the Gulf Stream.[ 
·         Cornwall is one of the sunniest areas in the UK, with over 1541 hours of sunshine per year, with the highest average of 7.6 hours of sunshine per day in July.
·         The mild climate has resulted in a number of botanical gardens.  
·         Because of its very long and unspoiled coastline, Cornwall is a a great place to walk, take in seaviews and breathe invigorating sea air.
five gardens in cornwall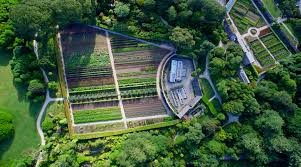 The Lost Gardens of Heligan:  one of the most mysterious estates in England (but is Cornwall part of England?). Lost to the brambles of time since the outbreak of the First World War, this Sleeping Beauty was re awakened in 1990 to become Europ's largest garden restoration project.  There are 200 acres to explore, enough to delight gardeners and nature lovers alike.
Open every day except Christmas day.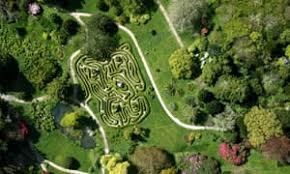 Glendurgan 
Originally home to a wealthy Quaker family (the Foxes), these subtropical gardens were created in the 19th century with the family's 12 children in mind; nearly 200 years later there are still plenty of outdoor games. The 185-year-old cherry laurel maze delights young and older.   A garden visit for a whole day's outing to delight young and old, plant experts and amateurs alike.
Open from 10.30am-5.30pm from 10 February to 28 October; closed on Mondays, except bank holidays and all Mondays in August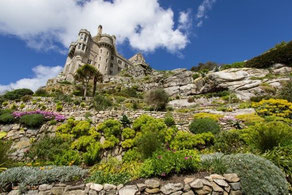 St Michael's Mount:  On a tidal island 500 meters from the mainland sits Cornwall's very own Mont St Michel, where a priory was first built in the 11th century.  The present day castle, built around the initial priory, dates from the 14th to the 19th century and has been in the same family for the past 400 years.  The granite rock absorbs the heat during the day and releases at night, generating a microclimate.  Exotic plants have been cultivated here since the 18th century.  An enchanting garden well worth a tour. 
Open Mo-Fri 10-5:30 from Mid April through the end of June.  In the summer thursdays and Fridays only.  Note: Closed on weekends!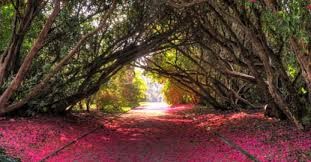 Tregothnan Estate:  in addition to being home to the UK's first ever tea plantation, the garden is a treasure trove of exotic plants, majestically spread over 100 acres.  Camellias, azaleas, rhododendrons – all mature specimens – are a sight to behold in late spring.  Seize the chance to visit on the NGS Scheme on April 13/14 for only 10 pounds per head.  Otherwise book the special treat of a private guided tour fo 65 £ per person.  Definitely an unforgettable garden tour.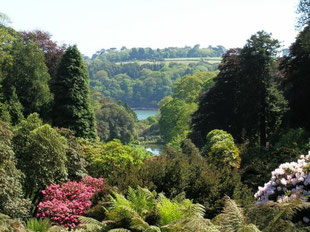 Trebah Garden A sub-tropical paradise with a stunning coastal backdrop.  Run by the Trebah Garden Trust and open every day of the year.  In February Camellias and snowdrops bloom; azaleas and rhododendrons follow later in the spring.  In the fall hydrangeas can be admired and in the winter all manner of exotic trees.
0pen all year round 10-4
Mawnan Smith,
Nr Falmouth
Cornwall, TR11 5JZ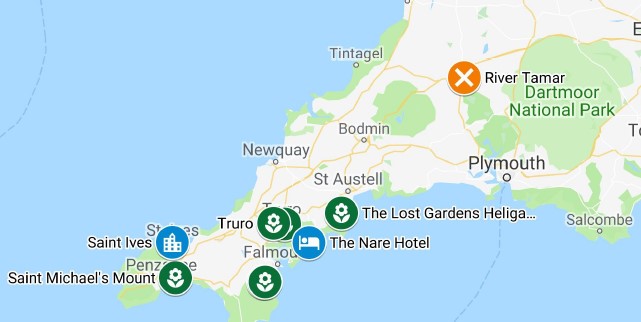 HOW TO GET TO CORNWALL
Train to Truro,5 hours from London Paddington station then rent a car at the station

 

Drive from London :  5 hours though not to be recommended on weekends or bank holidays because of traffic

 

Fly to Bristol or Exeter and rent a car at the airport. 

  

Ferry to Plymouth from Brittany (Roscoff or Saint Malo, 6 hours or overnight)

 
WHERE TO STAY
As a special treat: The Nare – a Country House hotel by the sea, in Veryan-in-Roseland Near St. Mawes,
what else to do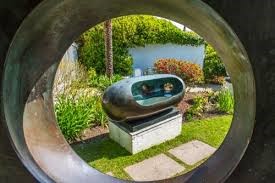 AS I WAS GOING TO ST IVES,  I met a man with seven wives. Every wife had seven sacks, every sack had seven cats, every cat had seven kitts. Kitts, cats, sacks, wives, how many were going to St. Ives?
While you're here, check out the Barbara Hepworth (1903-1975) Museum and Sculpture Garden, set in the home and studio she occupied from 1949 until her death. Managed by the Tate Gallery since 1980. 
Open tue-sun 10:00-4:40.
If you liked this article or know someone who might, share it using the buttons below!  Thanks!
If you have suggestions, please write me a comment, I'd love to hear from you!