Scrolling through the photos of 2022 on my phone, I am in awe of all the places I got to travel this past year.  Italy, Portugal, England, France the United States! Gardens, museums, beautiful places, so many special moments with loved ones and like-minded friends.  All these photos bring a smile on my face and warm my heart, lift my mood and make me grateful. Here I share three highlights, three luminous moments that stand out, where not only my eyes but all my senses were engaged, creating a happy memory that warms my heart.
Best garden experience of 2022:  An early bird tour at Sissinghurst Castle Garden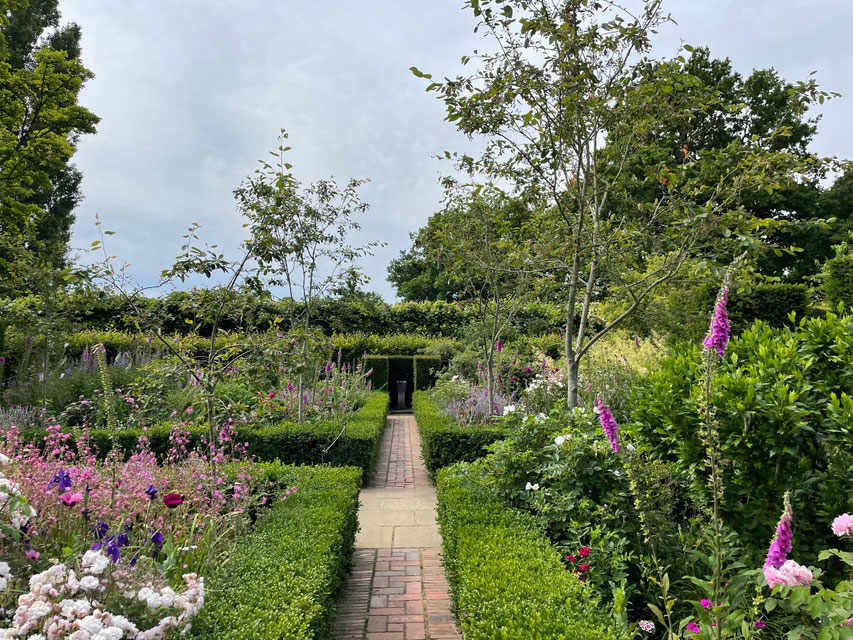 Sissinghurst Castle Garden is arguably one of the best-known gardens in England, not least because it was made by the prolific and colorful author Vita Sackville-West (1892-1962) and her husband Harold Nicolson (1886-1968), also an author and an accomplished diplomat.  Sissinghurst has been endlessly written about and has been a source of inspiration to many gardeners since its inception almost a century ago.  Today it is part of the National Trust and is on every garden tour of Sussex and Southern England and, if there was such a book, would certainly be one of those "100 gardens to see before you die" places.  Its normal opening hours are 11:00AM to 5:30PM. It is not unusual to find the parking lot stuffed with buses when you arrive for a visit during those hours.  It is also a dense garden, much like a densely furnished house.  It is made up of garden rooms which are  close together and thickly planted with a great variety of plants.  It was conceived as a family garden, the paths are made for one person.   Consequently, the visitor is never alone in any of the rooms.  There is always at least a few other people to share the space with and these are so close that you can comfortably carry on a conversation while still trying to take in what you are seeing.
Call me selfish but I find experiencing the garden with a crowd detracts considerably from the experience.  It is physically impossible to stop and admire as there is invariably someone behind you pushing you along.  As the paths are so narrow there is nowhere to step aside and let the person pass so you are forced to move on though you might have liked to linger for a moment.  For this is an exceptional garden where each room is perfect, not only horticulturally, but also from a design perspective, with perfect proportions and beautiful vistas, and the whole makes the spirit of the place come alive, touching the soul as only the greatest gardens do.
This past June, at the height of Rose season, on the occasion of The Garden Conservancy`s Society of Fellows´Master Class Tour to London and Sussex, I arranged an early bird tour of Sissinghurst Castle Garden.  These are offered only certain days of the week and need to be booked relatively far in advance.  An early bird tour also means a very early start.  The mild discomfort of perhaps missing breakfast is more than made up for by getting to experience the garden without the crowds.  
Upon arrival we headed to the tower which is where visitors enter the garden through great big wooden doors.   Head gardener Troy Scott-Smith welcomed us and ushered us inside, closing the door behind us.  The only sound was birdsong.  It was a beautiful, fresh, June morning when blooms are just waking up and the colours are fresh and the breeze is scented with the smell of dew and freshly cut grass.  We wandered through , at our own pace, stopping to admire here a plant and there a view, all the way down to the herb garden and its carpet of creeping thyme.  I felt like I had been admitted to a secret garden, almost a sanctuary and that I was experiencing the place like Vita might have done, on one of the early morning walks she took as much for inspiration as to greet the day and inspect her garden.  All gardens have a soul but some are more inscrutable than others.  That morning I felt like I had touched the soul of Sissinghurst, or was it that it touched me?  .  
---
Best Aha moment of 2022:  A quiet moment in the Gardens of Isola Bella,  Lake Maggiore
In May 2022 I led a group of 10 ladies on a weeklong tour to explore the Lakes of Italy.  After three days on Lake Como we moved to Lake Maggiore and, on the second day, visited the gardens of the Borromean Islands.  We started out with Isola Bella. The island is named after Isabella, the wife of Carlo III Borromeo (1586-1652) who initiated the transformation of a rocky crag into what became one of the most fashionable islands for the social set in the 19th century.  The spectacular gardens are built on terraces around the palace and the effect is that of a large ship or, in the words of Monty Don, " a floating wedding cake". 
To access the gardens, visitors must first pass through and visit the rooms of the palace, and crowds are the norm. at least in May which is high season.  Groups follow each other, each led by a different guide.  One feels part of a herd and there is no time to stray or visit at one´s own pace.  .Finally, one is released into the open air and relative freedom of the garden.  It was a beautiful day and we wandered through, climbing the terraces.  We admired the roses which were in full bloom although it was only mid-May and the remarkable specimen trees cleverly integrated into the design. 
Although we were following our guide, the crowds even in the garden, made it easy for individuals to stray and go their own way.  Suddenly I noticed that one person was missing.  There is, I think, nothing worse than getting lost on an island even if there are a lot of people around.  Not wanting the lady in question to feel abandoned, I retraced my steps to look for her.  Under a green arbor, in the shade, on a bench, I found her sitting quietly with her hands folded in her lap and her eyes closed.  I must have startled her because when I approached, she opened her eyes and smiled.  "Were you looking for me?  Sorry, I was praying". 
I smiled, briefly explained where she could find the rest of the group, and not wanting to be indiscreet, left.  I felt humbled. This traveler had reminded me of another reason we travel:  to see the world and its wonders but not forget that all this beauty has a spiritual dimension too.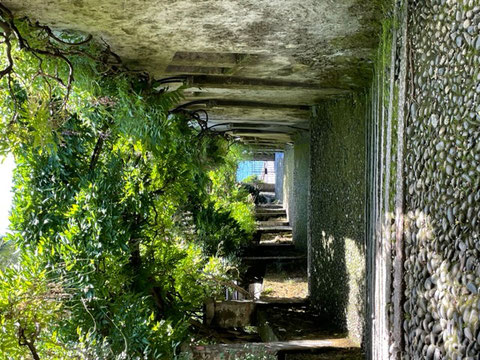 Best activity:  Attending a  performance of the Opera Il Trovatore at La Fenice in Venice.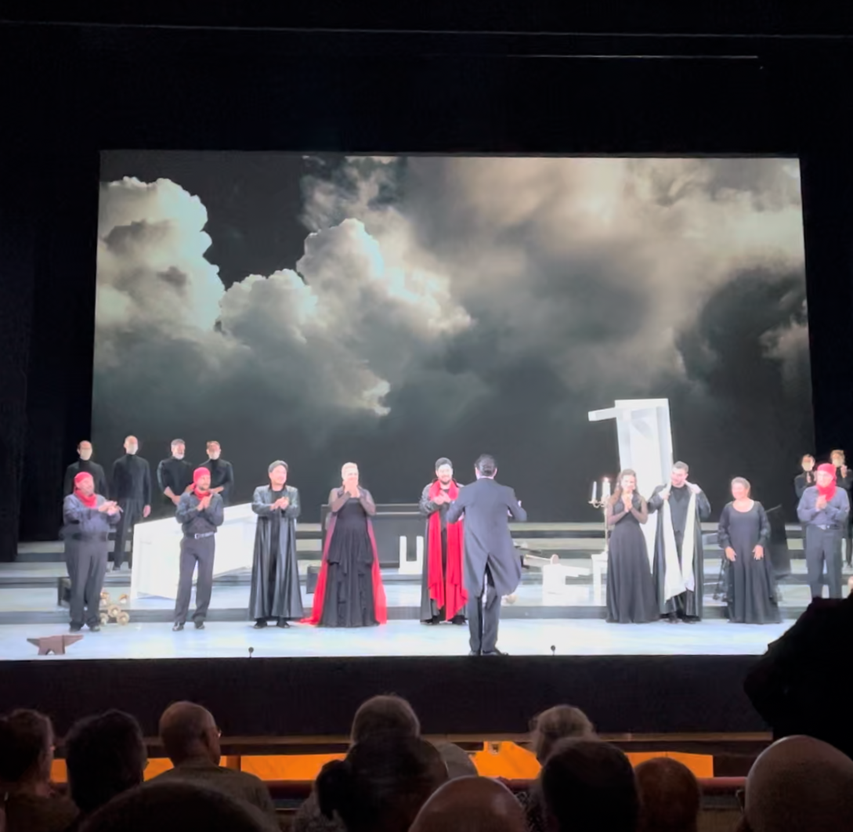 While the primary purpose of garden travel is to visit gardens, I find that adding other elements to the program makes for a richer experience.  For example, I include a flower arranging workshop on my Holland Tulip tour and we once did a cooking class in Italy.  On my latest Secret Gardens of Venice Tour this past September we attended an opera at La Fenice, Venice´s Opera House.  After all opera was, if not created, at least very much developed in Venice.  It is an art form that is so quintessentially Italian that I thought it would fit in well with our intention of exploring another side of Venice. 
La Fenice, which means Phenix, the mythical bird that rises from the ashes, is truly aptly named.  First built in 1792 as a replacement for a burn-down theater, it has since then burnt down and been rebuilt not once by twice, most recently  in 1996/2003.   La Fenice is considered a world class theater and renowned artists perform there regularly.  We had orchestra seats to a production of  Verdi´s Il Trovatore directed by Lornezo Mariani.  In Venice people dress up to go to to the opera so we did too.  Our taxi boat dropped us off on a side street which, in the dimming light, looked much like a stage set, a fitting start to our evening. 
I was rather expecting a production with elaborate sets and period costumes, in keeping with the baroque appearance of the building and the fact that Il Trovatore, the opera we were attending, was written in 1853.  Il Trovatore is a story passion, deception, love and death, suitably dramatic for an opera. As the curtain rose I quickly realized that this would be very different.  The sets were digital, with images of flames in varying intensity projected at the back of the stage.  The costumes were simple black and white with a touch of red, and the props reduced to black tables, candlesticks and a rope or two.  Did it work?  Emphatically yes!!!  As in the proverbial "less is more", the minimalism put the spotlight on the singing, heightening the drama and triggering emotions I had not expected.    Most of us liked it so much that  we considered that evening one of the highlights of our trip to Venice.  
Looking ahead to 2023
What do all these highlights have in common?  All three of these bright and luminous moments illustrate some of the elements I strive to include in my trips.  First and foremost an exceptional garden experience.  Secondly keeping it personal despite the crowds and the constraints of group travel.  Finally making the trip a holistic experience.  Looking ahead to 2023, I look forward to discovering new gardens, getting to know new garden travelers and sharing new adventures and insights.  After all, creating memories s one of the main reasons we travel.  Don`t you agree?
---
READY TO PLAN A TRIP?
If you`d like to plan a trip or are curious about a destination, do get in touch by clicking on the button below.  I look forward to starting a conversation about your travels.
---
SHARING IS CARING
If you like this article, if you think it could benefit a friend, please share using one of the buttons below.  Many thanks!